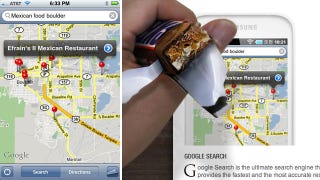 You're not helping your case here Samsung. That's blatantly a photoshop screenshot hack-job you've got there on your Galaxy Player 5.0 and you didn't even take the time to create the screenshot yourself.
You've seen the first trailer for Cowboys & Aliens now take a look at the alien secrets hidden within a collection of newly released high-res images, plus some trailer screencaps. What's the biggest surprise? The alien camera POV shot.
So, how different is the remake version of Let The Right One In, retitled Let Me In, from the original? We've seen the trailer - now let's pick apart the differences between the two movies.
There was more than one reveal in the latest Terminator Salvation trailer. Poring over screencaps, we found similarities with Firefly and Star Wars, plus lots of hidden plot twists. And there's new behind-the-scenes footage. Spoilers!!