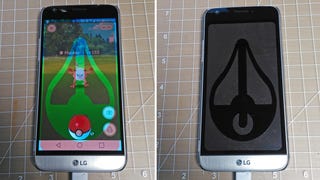 Using the iPhone 6 one-handed isn't easy, but reaching the top corners of the screen on the iPhone 6 Plus is nigh impossible with regular-sized hands. So PureGear has created a new glass screen protector with a set of shortcuts to the top corners of the screen positioned next to the home button.
If you'd rather spend your time actually using your touchscreen tablet, instead of wasting hours buffing away fingerprints, 3M's new Natural View Fingerprint Fading Screen Protectors might be just up your alley since—like an old soldier—fingerprints will just fade away.
You may never have to use your iPhone as a nutcracker, but it's good to know that Buff Labs' screen protectors will keep your iPhone's display intact if you happen to crush almonds with a hammer on it.
Gamespot did something few dared to attempt: they reviewed little pieces of plastic. We in the tech journalism world have to deal with these products almost every day: someone cuts a piece of plastic into a square, says its a cellphone screen protector, and tries to get us to review it. I mean more power to you if…