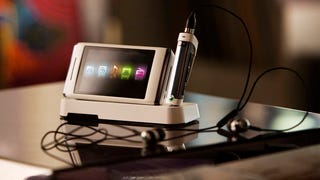 Sony Ericsson's Aino isn't the PSP phone, but maybe it's the next best thing—it's the first phone with Remote Play, so you can remotely control your PS3 and watch videos from it over Wi-Fi or anywhere through the internet. Why the hell didn't Sony do this before?
The Sony Ericsson Yari has gesture gaming. Instead of moving the phone or clicking buttons, "you make moves in front of the screen to get right in the middle of the action." Oooooooook.
That dirty dirty BengalBoy has got his dirty dirty paws all over the Sony Ericsson xPeria X1, putting it through his usual battery of tests: girls in bikini holding it, girls in bikini licking it, girls in bikini fondling it, and girls in bikini trying to find it inside their bikinis because they just lost it…
The last time we caught Sony Ericsson's Paris on the tubes it looked a little chunkier, but now the aesthetics have been immensley improved. For the proof, check out the image above. USEB has run a complete rundown of the expected specifications, so jump in for the best of what they found.
A recently uncovered Sony Ericsson patent details a cellphone with a detachable screen. The utility of such a function is not openly discussed in the document, but we cannot help thinking it would have little benefit over other equivalent designs. The image depicts a clamshell phone, which means if this were a…
A Chinese site posted some shots of the shell of a supposed Sony Ericsson K-Series Cybershot cellphone. The interesting part is that this phone, or a phone that looks like this, hasn't been announced, so we're left speculating at what its 3x optical zoom and its squarish keypad will be called when it is announced. If…