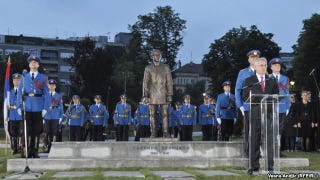 Yesterday marked the 101st anniversary of the assassination of Archduke Franz Ferdinand, an event that precipitated the First World War. To commemorate the event, a statue of the assassin, Gavrilo Princip, was unveiled in Serbia—which goes to show that one person's terrorist is another's freedom fighter.
Rainfall that usually takes three months dumped in just three days over the Balkan Peninsula this month. The result is devastating floods and thousands of landslides. To make everything just that much worse, the floods are also exposing landmines and washing away warning signs.
Quick what does the United States have in common with Serbia and Yemen? No, not just that they all have the vowel E in them. No, not because they start with letters in the second half of the alphabet. And no, not nothing either. According to popular estimates, the US, Serbia and Yemen make up the top 3 in countries of…
While most of us think of vampires as creatures that lurk only in books, movies, and teenagers' bedroom walls, for some parts of the world, vampire folklore is still very serious business. One of those places is Bajina Bašta, Serbia, where officials have warned the populace that a very old and notorious vampire might…
According to Serbian news, on September 10, a man snapped a UFO floating over the town of Bukovac. He's offered the footage up for analysis and has gone so far to recruit a physicist at the nearby University of Novi Sad to check out the film. And to make matters weirder, the air force had no record of civilian flights…
Forty people jump from bridges in Belgrade, Serbia each year. Working with ad agency McCann Erickson, the Belgrade government installed a projector underneath the bridge that shines the message "You Are Not Alone". It's only visible from above.