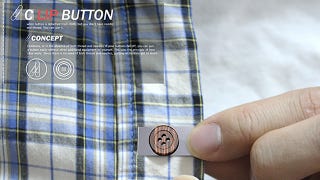 Just because your collared shirt came with a couple of spare buttons hanging off a tag doesn't mean you always have time to sew a replacement back on when the need arises. So an emergency replacement button that temporarily clips onto your shirt like a paperclip so you can quickly do it back up needs to exist—and,…
Technically there are a lot of things more embarrassing than popping a shirt button when you're out, but few things are as annoying. So instead of trying to re-attach it by ducking into a bathroom with an unruly needle and thread, these Tic fasteners provide an instant and permanent solution to the problem.
Fanart doesn't just come in paper, ink, plastic, and clay. Sometimes it comes in the form of cross-stitch samplers, plush toys, applique crafts, or big-headed crochet dolls. Bear and Bird gallery's Sew Nerdy show highlights those fan artists who prefer to work with cloth, foam, batting, thread, and yarn.
Maria Fischer, a German designer, created this book, "Thoughts on Dreams". She sewed "hyperlinks" onto the book with thread so readers could follow a specific link, er, word or phrase. It was part of an art project to highlight key words amongst a bigger story and somehow visualize "the confusion and fragileness of…
If there's one thing the seamstress community needs, it's a sewing machine that turns into a lamp.
A legitimate artistic movement known as Open Source Embroidery has sprung up to explore the relationship between, no joke, software engineering and needlework. It's pretty awesome.
Surely at least a few of our readers have encountered the dead iPod icon, and now one crafter has taken it upon themselves to immortalize the moment in cross-stitch. No longer will the sad music player invoke the agony of money lost, but the joy of afternoons at grandma's and the smell of freshly baked cookies. (It's…
This two week project comes with a lightgun, controller, and two game carts, Mario 3 and Duck Hunt. The sewn TV has removable felt screens to switch the game, too. [Sewn by Blythe]
Is this comforting or unnatural? We don't know. On one hand, who wouldn't like to cozy up under their favorite tech gear, maybe special someone by their side? On the other, gadgets already fill my heart with enough warmth to fend off hypothermia while walking naked in the arctic. Either way, my house will be covered…