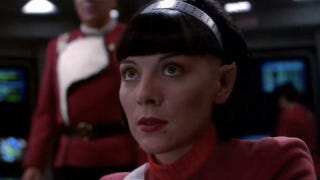 Twitter novelty account Star Trek & The City connects two franchises once linked only by Kim Cattrall. It imagines Ensign Carrie Bradshaw and her Sex and the City compadres on their continuing mission to explore strange new bedchambers, to seek out new lays and new sexual positions, and boldly pun where so many have…
In today's news-you-wish-you-didn't-know, there's a vicious rumor circulating that Carrie Bradshaw has swapped her MacBook for a HP netbook (albeit one designed by fashion designer Vivienne Tam). Gasp! Phone the girls! We have a MAJOR situation on our hands!
While I understand why people would want their GPS navigators to give them directions in the voice of KITT or Mr. T, I have no idea who in their right mind would want Kim Cattrall (the old one) from Sex in the City telling them where to go whenever they drive. Not only will her voice remind you of that horrible show…
We always had our suspicions, but the new Sex and the City movie confirms what most people knew all along: Carrie Bradshaw is an idiot. Texually says: "...the iPhone has a walk-on, for a second. Carrie needs a phone [spoiler redacted] and as [sic] an iPhone is handed to hear [sic], she hands it back saying "I can't…
It's confirmed: HBO has hit iTunes and now you can download The Wire, Rome, The Sopranos, Sex and the City, Deadwood (another season, please,) and what really makes it all worth it: Flight of the Conchords. Ladies (and gentlemen) of the World, rejoice.