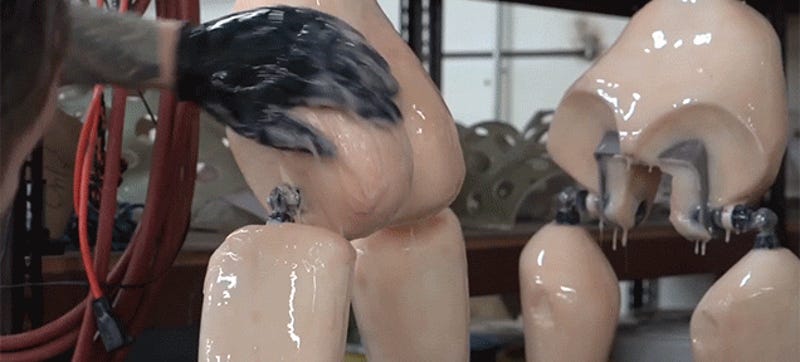 Being inside a sex doll factory and watching all that plastic nakedness get shaped is much more haunting than it is titillating. It gets unsettling, like if you were trapped inside a scene from a horror movie and couldn't get out. But it's also somewhat intriguing, just to see the mixture of products and body parts…
A row of dicks hanging from metal hooks could be the opening shot of a particularly gruesome horror movie, but its only one of the many eerie production stations in the RealDoll shop in San Marcos, California.
This poor pimple-faced chum just landed himself in the slammer for attempting to shoplift this disgusting Miley Cyrus blow up doll. The retail price of the doll: $19.99. Verdict: Gross, and not worth the risk of getting your face plastered all over the Internet for trying to steal it.
You know how, when KGB agents are tailing you, all you want to do is roll out of the car while your driver keeps going? Only those agents aren't dumb: If they suddenly see one fewer head inside the car, they're gonna know something's up. Spytechs at the CIA figured that if you brought along something compact yet …
Never encountered a real woman? Here's your chance: Moaning Lisa, who is part sex doll and part interactive game. She has seven strategically placed touch sensors—and even a couple of potentiometers on her nipples—and she can see you, too, with sensors in her eyes. Just like a real woman, the spots that get her hot…