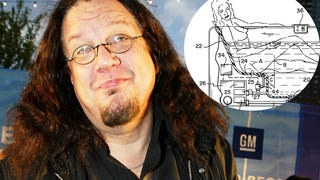 Awkwardly-coiffed magician Penn Jillette is an inventor. His greatest triumph: a "hydro-therapeutic stimulator" for women with jetstreams directed to "stimulation points (e.g., the clitoris) of the female user when the female user sits in the seat." Meet the Jill-Jet.
Mere weeks after America banished sexy Russian spy Anna Chapman, another may have surfaced: 24-year-old Anna Fermanova is accused of smuggling military technology to Moscow. She has a bellybutton ring and wears bikinis on Facebook. Meet America's new sexy outlaw.
Some classic rock albums have cover art so trippy, it could be pulp science-fiction book covers. (Like that Queen one.) Can you tell the difference between album covers and pulp book covers? Take our quiz!