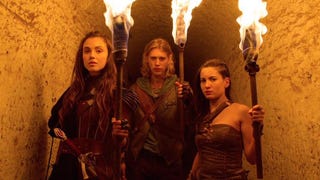 There's a lot to like about MTV's live-action adaptation of Terry Brooks' Shannara book series . But it's also very much an epic fantasy TV series made by MTV, which begs the question: Who is The Shannara Chronicles really for? Because the show may be too fantastic for normal MTV audiences, but also too MTV-ish for…
So the folks at MTV released a giant, two-minute trailer at New York Comic Con for the upcoming fantasy series The Shannara Chronicles, based on the many, many bestselling novels by Terry Brooks. Much like the book series, I doubt anyone is going to accuse the Shannara show of overwhelming originality, but it still…
Looking for some awesome beach reads? Science fiction and fantasy have you covered. There's a new Shannara book, a brand new Laurell K. Hamilton, and an Alistair Reynolds novella. Plus Scalzi's next Old Man's War book, and Terry Pratchett and Stephen Baxter's Long Utopia. Here are all the books you can't miss in June!
The live action Ghost in the Shell movie already has a release date. Meet the guy playing Robin's father on Gotham, and a new threat on Orphan Black. Tom Cavanagh is very excited that his Flash character's big secret is finally out. Plus, looks ahead to the new season of Penny Dreadful. Spoilers now!
There are some new guesses about Lupita Nyong'o's Star Wars character. James Gunn explains why he's changing Peter Quill's backstory in Guardians of the Galaxy 2. Set video shows even more detail of Batman v. Superman's take on a classic Batman moment. Plus all about tonight's Sleepy Hollow. Spoilers now!
Romance abounds in fiction — and science fiction and fantasy are full of epic romances too. But sometimes, it's just a bad idea. We see so many fictional couples that the writers clearly thought were a great idea, but are actually disasters. Here are the main signs that a fictional romance is a terrible, awful, bad…