A new report from Twopcharts has found that 44% of the world's Twitter accounts have yet to send a Tweet. With approximately 974 million Twitter accounts, that's an awful lot of dead air. As the Wall Street Journal points out, however, this could mean that people, scammers, or bots simply signed up for an account and…
Artist EatToast transforms sweet, innocent ponies into Doctor Who aliens — the malevolent Cybermen, the creepy Silence, the tentacle-faced Ood. You'll never look at pastel ponies quite the same way. [deviantART via Neatorama]
The Xbox 360 HDMI audio issue is finally being fixed! There will be an Xbox LIVE update at 2AM, February 3, which will hopefully resolve any silence-over-HDMI issues people have been having since November.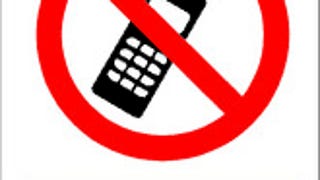 UK train operator C2C has taken the neat step of actually enforcing its "quiet zone" train carriages with a system than blocks cellphone signals. It's a technique borrowed from the defense industry where a transparent conductive film is placed over windows to stop electronic signals from sensitive equipment "leaking"…
Back when I was in college, one of my most frustrating experiences involved a roommate in my dormitory apartment who mistakenly believed that she would be able to wake up daily for her 8:30am lecture series. Said roommate could sleep through an elephant parade. Oh how I seethed in the mornings as I clutched my pillow…
This SIGNAL blinking cellphone holder is the perfect device for that super-silent office with the most uptight employees. Place the cellphone in the cup, turn it to silent mode and the cup will flash lights when a call is coming in. It is ironic because the ringing will no longer piss off the cubicle neighbors, but…
If you absolutely positively must kill every TV in the room within 90 feet, here's the do-it-yourself project that puts your TV-B-Gone on steroids. If you're handy with electronics, all you need is one TV-B-Gone unit, a certain transistor, a 9-volt battery and 20 infrared LEDs.