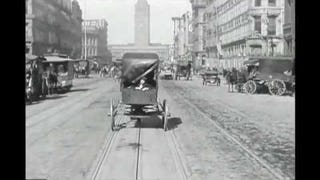 Hardscrabble Pictures added sound to this old black and white silent film of San Francisco's Market Street in April 14, 1906, just four days before the big earthquake that destroyed 80 percent of the city. It's really wonderful—put on your headphones and listen to the calm before the storm.
There may be a recent resurgence of interest in silent film (thanks in no small part to the success of The Artist), but anyone looking to get into the art form is in for a rude awakening. Of the nearly 11,000 movies made in the pre-talkie, golden age of silent film, 70 percent has been lost and gone forever.
Did The Artist's big wins on Oscar night leave you with a hankering for more silent films? Do you long for an era when action scenes were played to piano music and witty repartee was spelled out title cards? This video parody, from Australia's RatedComedy, recuts The Avengers trailer as a classy silent feature.