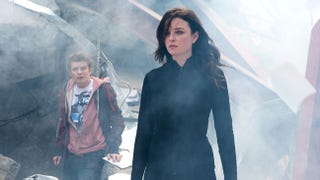 The Canadian time-travel cop show Continuum is getting the Warehouse 13 treatment — it's getting renewed for one final season, but only six episodes. Will that give the show enough time to unravel its complicated alternate timelines and themes of corporations versus terrorists?
In Continuum, at this point, almost everybody seems to accept that traveling back in time from 2077 to 2012 will allow them to change the past, creating a new and different version of 2077. So at this point, everybody's just trying to put his or her own stamp on the future. Except there's one major problem.
The time-travel cop show Continuum comes back to Canadian television on Sunday (and on June 7 on Syfy), for more paradoxically exciting action. And the show's producer, Simon Barry, sent us these exclusive (and gorgeous) VFX shots from season two.
We're still massively enjoying Continuum, the Canadian time-travel cop show. Episode three, "Wasting Time," which aired Sunday on Canada's Showcase network, was a an awesome blast of action and betrayal. The show is continuing to make great use of its setup, in which the future cop Kiera is always bouncing off her two…