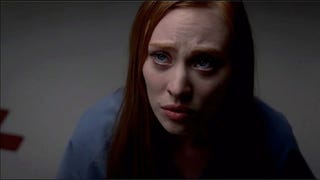 Seriously, just watch the previews for this new reality TV show, which is wants so badly to look like Hunger Games, and judge for yourselves. Meanwhile, Disney XD is giving us a brand new sneak peek at Guardians of the Galaxy and other upcoming Marvel movies. Check out clips and details for all this week's TV!
Seriously, we've been excited for months for one particular TV movie that airs this week, about metafictional bikinis and musical gang violence. We're canceling Comic-Con on Friday night so we can watch it! (Not really.) Also, Syfy is putting a curse on Vegas, and Venture Bros. is possibly making a huge, shocking…
This week, a brand new show introduces us to a group of young fortune-hunters, who strip half naked and blunder around the world's biggest meteor impact site. Plus baby mammoths, Clarke's Law put to the test, and sex possibly going extinct! Check out tons of clips and details for this week's television.
Seriously, it's been a tough time for science fiction on network TV lately — but that losing streak ends tonight, with the summer's one must-see new show, Under The Dome. Plus Syfy gives us the crazypants over-the-top summer movie you'll never admit you crave. Check out clips and details for all of this week's TV…
It's going to be tough to let go. But hopefully the final batch of Futurama episodes, starting this week, will help numb the pain of saying farewell to the Planet Express Crew. Meanwhile, there's a superhero "girls' night out," and someone finally explains how sex works. Plus Finn and Jake have a time machine!
Jodi Harvey-Brown has a somewhat different take on the notion of pop-up books. She uses novels, biographies, and books of short stories as both the inspiration and materials for her open book paper sculptures, reworking the pages to illustrate characters, ships, and scenes from the tales. The end results are lovely,…