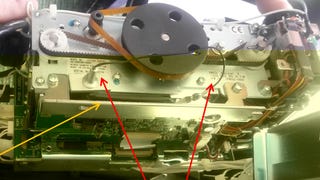 It might finally be time to abandon cash altogether as a new type of ATM card skimmer that uses a technique called "periscope skimming" has officially been found installed in ATMs in the United States, and from the outside there's no way to tell that a machine has been compromised.

ATM skimmers are so successful is because they're nearly impossible to catch. They're cheap and easy to make and just slide onto anything you might use to swipe a card, stealing your information in the process. They're also part of the reason you have to use that annoying chip card that takes forever to process.

Not all ATM attacks need an elaborate skimmer. There's a new kind of crime doing the rounds, which involves hijacking the ethernet cable of an ATM to gather your card information.

Skimmers have been growing ever more advanced in recent years. Do you think you'd be observant enough to notice that this checkout front-plate was about to gobble up your card details?
ATM skimmers just keep getting scarier. In his ongoing series on skimmer innovation, security guru Brian Krebs highlighted a new card skimmer—the increasingly thin device that intercepts and snags your credit card details—that's been spotted in the wild. And unlike the vast majority of skimmers that attach to or…
Be careful on the subway. Sure, the platforms are safer than ever, and the cars are even pretty clean. But credit card thieves seem to come up with a new way to steal your personal information every day. The latest ploy: a card-reading spy camera, hiding above the MetroCard machine.
Valentin Boanta has a lot of free time on his hands—five years worth, to be exact. That's because Boanta is currently serving a prison sentence for, according to Reuters, "supplying gadgets to an organized crime gang used to conceal ATM skimmers." So with all that time to think about what he's done, the apparently…