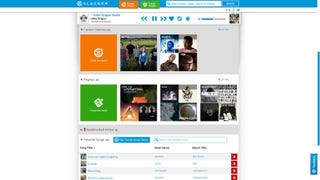 Pandora is the leader in streaming music mostly because it got there first. But use it for a while, and you realize the service's catalog—not to mention its features—are limited. On paper, Slacker Radio is superior, and today, the five-year-old service is launching an overhaul aimed at proving it's superior.
Sonos Inc, makers of wireless HiFi stereo systems, announced a system software update today that promises a host of new features as well as deeper integration with two of the Internet's largest streaming music providers. Here's what's new.
If you're willing to cough up $10 a month, you'll find yourself with 8 million songs at your disposal on Slacker's new Premium Radio service, which we previewed the other month.
We first caught wind of Slacker Radio's plans for a subscription on-demand music service a few weeks ago, and it sounded vague but promising. Now, having seen it in action, I can say with certainty that it's loaded with potential.
The new version of Slacker for iPhone's been buffed and polished so it glistens with a better UI, "4x the song library as our leading competitor" (Pandora) and faster transitions. Look for it tomorrow. [Slacker]
We knew it was coming, but now the Slacker internet radio app is officially available on the iPhone.
Slacker fans are getting a little surprise this morning. The online radio station has just released a desktop app that lets you manage your entire music library while letting you make a few tweaks to the online version. Here's what's included.