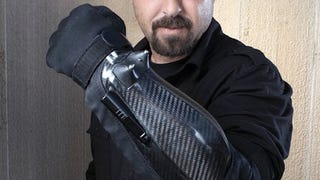 Getting socked in the jaw really sucks. But at least you didn't get popped by someone wearing the BodyGuard electro-gauntlet, which combines a laser pointer, video camera, taser, and armored beating-plate into one wonderful little garment.
These MacBook and MacBook Pro sleeves from ColcaSac are the type of sleeves you would get if you wanted to protect your laptop while carrying it to and from your comparative literature lectures at Wellesley. That doesn't mean they're ugly.
Ars Technica posted a guide showing how to make a laptop sleeve out of any fabric you happen to have lying around. It probably won't protect your laptop from falls, but it'll provide some style and probably reduce scratches.
While sleeves with blankets are not new, our partners-in-crime at Jezebel have discovered this funny remix of the terrifying Snuggie infomercial, perfect for Tibetan monks and dummies. [Jezebel]
The Zeroshock is a notebook sleeve made of high resistance polyurethane foam to protect from the occasional notebook dive. The manufacturer claims this type of polyurethane to be more pressure resistant than your normal, garden variety polyurethane, which allows it to absorb 100G of pressure more than a standard…
Sure, those convenient MacBook sleeves are getting pretty cheap, but then you would be like every other trendy Starbucks sipping, MacBook owner. This is the only true way to make your laptop stand out, and it is by creating a DIY trapper keeper carrying case. Everyone remembers the trapper keeper. It was so cool and…