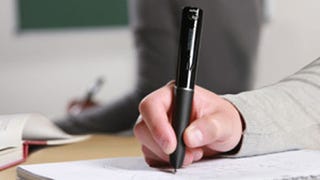 The Livescribe Pulse smartpen showed that there was demand out there for a ballpoint pen with a computer inside. Now the Echo has arrived, bringing with it additional capabilities like password protection, increased storage, even more apps.
The folks behind Livescribe, the smartpen/pencorder/computer stick/dictapencil (remember?) have finally made good on an old promise: to open it up to 3rd-party applications. That's right folks—now there's an app store for pen and paper.
Hey, we just got one of those Livescribe Pulse Smartpens. You remember these, right? The Pulse is one of my favorite gadgets from the past year, because it'll do basic computing like math and translation via a paper UI. But more importantly for a reporter or student, or anyone who takes notes, it'll record voice notes…
The LiveScribe Smartpen is about to make its appearance at the D conference, but we wanted to remind you about the coverage we did last night. Hop on over to this post and see for yourself. It's no smart table, but a smart pen's not too shabby either.
Click to viewRemember the Leapfrog Fly Pentop? The educational toy that can answer math problems and translate words you write on the special dotted paper? This LiveScribe is the grown-up version, and I believe it's going to sell like hotcakes. In a nutshell, the most critically cool thing it can do is link audio…