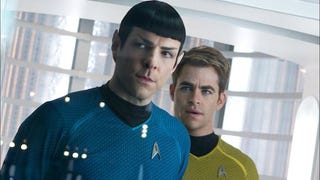 He's been rumored to be in the running for a while now, but apparently Joe Cornish — director of the British scifi hit Attack the Block and co-writer of the CG Tintin movie and Edgar Wright's upcoming Ant-Man film — is Paramount's #1 choice to take over directing duties for the Star Trek movie franchise.
It's the last scene of a film you've waited months to see. The villain makes a smug remark, stating that if his heart stops, a nuclear device in a distant shed will go off. The hero, of course, lowers his gun and pauses. Bomb triggers linked to vital signs often appear in fiction, making for an easy plot devices. But…
Chris Meloni provides tons of spoilers for True Blood. Will Smith explains why he's hesitant about I Am Legend 2. Dominic Cooper discusses the ins and outs of playing Abraham Lincoln's only vampire ally. Brian Michael Bendis says FX's Powers TV show isn't dead yet. Plus tons of Falling Skies spoilers!
We all use the physical descriptions of literary characters to form an image of how that character might look, but what if you translated these portraits using police software? In his portrait series The Composites, Brian Joseph Davis uses law enforcement composite software to see determine how these characters…
You too can be a deliverator for Uncle Enzo with this CosaNostra Pizza t-shirt. You may not have the swashbucklery of Hiro Protagonist, but hey, think of it as insta-cyberpunk street cred this side of the Metaverse. [ThinkGeek via Boing Boing]
Neal Stephenson confirmed his status as one of science fiction's leading authors, in the wake of the acclaimed Anathem, by selling his next book in what Publisher's Marketplace calls a "major deal." (In other words, it was worth at least $500,000.) But the book, called REAMDE, is classified as "thriller" rather than…
The camera works by translating hand and body motions into an avatar's movements in Second Life. Tip a bit forward and the avatar will walk, tip faster and the avatar will run, tip too fast and you'll fall down (presumably). The included demo also shows the camera translating various movements into jumping, flying and…
For currently unknown reasons, several internet griefers decided to screw with epileptics last weekend by posting flashing and multicolored images in a support forum run by the nonprofit Epilepsy Foundation. About three percent of epileptics are photosensitive, which means that the flashing lights and colors can…
Science fiction has three iconic images that definite the genre: aliens, rockets, and rayguns. Whether due to our obsession with phallic guns, or the idea that a laser pistol is just too cool to pass up, the scifi gun has endured since H.G. Wells introduced them as a "Heat-Ray" in 1898's War of the Worlds. As good…
Last year at the Television Critics Association, where professional couch pota... er, critics get together to be spoon-fed updates from the networks about what to watch during the upcoming season, the Sci Fi Channel announced that George Clooney and his buddy Grant Heslov were developing Neal Stephenson's awesome The…