I'm man enough to admit when I'm wrong. And declaring the Snuggle Suit the last word in Snuggie technology was most definitely one of those times. The Coz-E is the heated Snuggie of your closest-held dreams.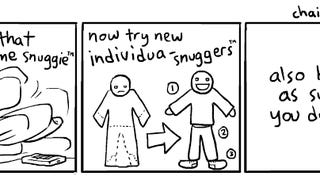 We all know the whole Snuggie thing is idiotic. But this comic really boils the idiocy down to its pure essence. Magnifique. [Chainsaw Suit via The Daily What]
Sure, I could go into how NASA's Ares Rockets and Project Natal ranked high amongst Time's top 50 inventions, but when it comes to end-of-year lists, I get a kick out of what's deemed the worst. A drum roll please…
Eff snuggies, I'm in love with this blanket that has a gadget storage pouch.
There's really nothing sexy about seeing your significant other wearing a backwards robe and watching TV on the couch. That is, until you see the Snuggie Sutra. Here are some of our favorite moves from the site.