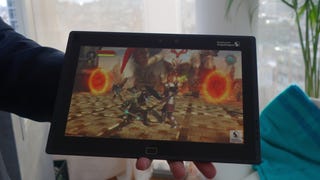 A new year means a new flagship smartphone brain, and Qualcomm has detailed some of the most fun features of its upcoming Snapdragon 810 chip, which will start popping up in Android and Windows phones next year. It's faster, and it supports better graphics sure, but it also has other tricks up its sleeve. Here's what…
It's been known for quite some time that Intel wants to enter the tablet space. When its Atom-based Balboa Pier chipset hits in early 2013, it could ultimately power the first Intel-based tablet people care about thanks to a rumored quad-core processor, 8 gigabytes of RAM and Ivy Bridge-class graphics. Whoa.
Chip company Adapteva has a crazy notion: Let's turn our smartphones into veritable supercomputers. And the way to do it? Up the ante in processing power. Not with just dual-core or quad-core processors. No, their Epiphany IV chip has a monstrous 64 cores.
It's everywhere. CES, which hasn't even officially started yet, has already given birth to more Tegra 2 phones and tablets than I care to count. So, again, what's so special about this thing?
The Tegra system-on-a-chip, the zippy hardware that powers the Zune HD, had so much potential. Then, the delays. Slow pickup. Disappointment. Whatever happened to the Tegra, Nvidia doesn't want it to happen again. This time, they say, will be different.
It's all very wink wink, nudge nudge, hush hush, but the odor that Intel is giving off in this Fortune article about the Medfield project is that Intel's trying to shrink x86 down to smartphones.
Movies movies movies... we all love a good show, but the lovely MPAA is up to some pretty strange shenanigans to ensure that you get to see some shows just once—until they're out on DVD at least. The fab guys at the Motion Picture Association of America are petitioning the FCC on behalf of some major movie studios to…