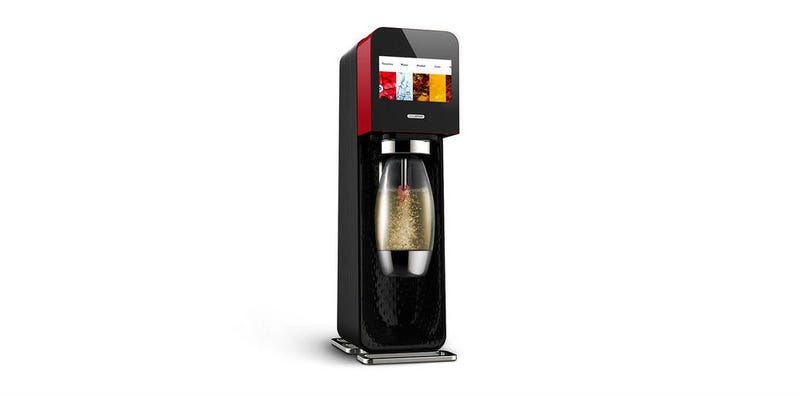 Being able to carbonate water in your own home is awesome. Not being able to inject the same magic bubbles into every other liquid you can get your hands on? That's a drag. But no longer! The SodaStream Mix is a new machine that can bubblify non-water. Are you quaking with glee yet? I know I am.
They might make it slightly cheaper to produce your own carbonated beverages at home, but those SodaStream machines aren't exactly the loveliest things you can put on your kitchen counter. Thankfully, the company has teamed up with KitchenAid who's given the machines a retro makeover and an all-metal design so they'll…
Whatever you think about the situation surrounding Sodastream, carbonating your own beverages is awesome, saves you money, and the result is generally healthier than name brand soda. Today you can pick up the Hamilton Beach Fizzini for just $19, which is cheap enough to impulse purchase just for curiosity's sake. The…
Scarlett Johansson's SodaStream endorsement just came at a price; she's been ousted as an Oxfam International ambassador, with a spokesman citing "a fundamental difference of opinion" as her reason for stepping down (read: fired) from the international humanitarian organization.
Look, Sodastreams are great for their convenience and ubiquity, but there are some drawbacks. For starters, you can only use them to carbonate water. On top of that, the cost of the replacement CO2 cartridges (which you need to keep yourself "in bubbles") is higher than it needs to be. We've explored other systems…
The Sodastream not only reduces waste, but saves your arms the stress of lugging multiple jugs of sparkling water home from the grocery store each week. There is one area, though, where the home soda-making gadget is not helping things, and that is how it looks in your kitchen. The thing is just kinda awkward looking.
One of the main reasons people love the SodaStream is that you save money by making your own sparkling water. Supposedly. Unfortunately, replacing those CO2 canisters is expensive. This clever hack will help you cut those costs by a huge margin.