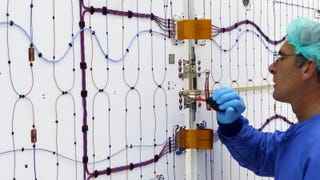 The gauntlet has been thrown down yet again in the solar cell efficiency arms race. This time Sharp comes up with a cell that can harvest 35.8% of available sunlight.
The phrase "I'll rest when I'm dead" doesn't apply to those living in Santa Coloma de Gramenet, a small town outside of Barcelona. You see, open land is scarce in the area so the local government has put the dead to work, so to speak, by installing solar panels on the top of their mausoleums. So far, a total of 462…
Solyndra, a California-based solar start up, says it's figured out a way to make solar panels cheaper to install and better at producing energy—rolling them up. The company's solar panels are comprised of rows of cylindrical solar cells deposited on glass tubes, a new type of shape that purportedly lets them absorb…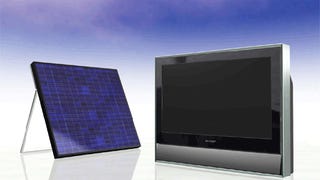 As part of Sharp's recent efforts to shove itself to the forefront of solar innovation, the company is showcasing a prototype of a 26-inch LCD Aquos TV that can be powered entirely by the sun. Now even the 1.6 billion people on earth without electricity won't have an excuse to miss the next season of Lost.
Australian soldiers are now beginning deployment with wearable solar panels. Just like most of us, their military is weighed down by too many gadgets that are consuming too much power. But unlike most of us, their use of night vision is for more than "recreational" purposes. So the government has spent £1million…