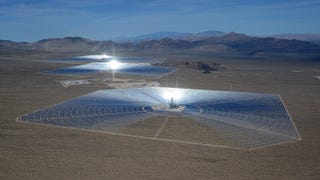 The Ivanpah Solar Electric Generating System has a problem. The myriad mirrors that reflect the sun's searing rays onto towers that generate electricity also create a death ray that fries anything in its path, namely poor innocent birds flying through the desert. But don't worry. They're working on it.
A few months ago, Sploid reported on an unsettling consequence of running the world's largest solar plant. The 350,000 mirrors bounce sunlight back towards the atmosphere with such intensity that it basically creates a giant death ray. The poor little birds that pass by don't stand a chance—they get scorched in…
The Mojave Desert—last seen on our virtual pages when the SpaceShipTwo was unveiled—has leapt into the news again today, thanks to Senator Dianne Feinstein's legislation which will stop 13 solar plants and wind turbines from moving in.