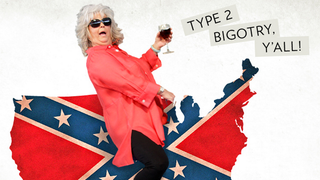 Jezebel's Tracy Moore answers a common question these days: "Why is anyone surprised that Paula Deen is racist? She's an old white lady from the South!" Thinking that everyone in Dixieland is a racist is wrong, she argues—but "there are definitely lot of racists there" and she has collected them all in a guide.
Last year, the Centers for Disease Control and Prevention released maps of American obesity that pegged the country's Southern states as the fattest at Fat Camp USA. Now, a study out of the University of Alabama at Birmingham is taking the CDC to task. Southerners aren't the fattest, the study concludes, they're just…
Remember when our iPhones were keeping a detailed history of everywhere we've ever been, and we were all disturbed by it? Well there's finally some sweet, sweet justice, courtesy of a South Korean lawyer. His payout? $946! Yeah! Wait, what?
As the Mississippi rises and sweeps away whatever it wants, photos from the ground are awful enough. But seeing NASA's satellite view, the damage is incredible. Blue-ish areas? Flooded. That. Is. A. Lot. Of. Water. [NASA via Boing Boing]