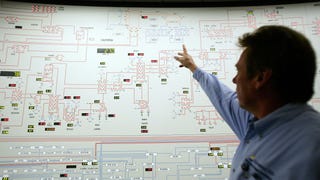 Though the catastrophic natural gas leak outside of Los Angeles has been contained, the repercussions are still far from over, according to a new report. For weeks leaders of the region's utility companies have been warning customers about potential disruptions to their energy service. Today, they're telling Los…
Although we're not 99.9% sure when an earthquake will strike in Los Angeles, an earthquake early warning system would help the city take additional precautions and almost certainly save lives. A group of high school students is partnering with the USGS to test how it might work.
Dozens of charred, abandoned cars made for a surreal landscape after a massive wildfire swept across a major Southern California freeway yesterday afternoon. Early this morning officials confirmed that five drones flying over the scene hindered firefighters' response and caused the fire to jump the freeway.
A giant wildfire currently spreading through Southern California's Cajon Pass is burning cars on the freeway in what the San Bernardino County Fire Department is calling a "multi-casualty incident." But the firefighters also issued a report that due to a drone seen flying in the area, they couldn't get their…
New technologies can offer fantastic opportunities for humanity. They can help us become more mobile, more connected, and more safe from life's everyday dangers. But along with all of the benefits, technology often also provides new, more accessible ways for us to off ourselves. And in the 1920s, the automobile…
Before I moved to Los Angeles (almost 2 years ago now) I had never heard the word Googie. In fact, when a friend — a native Californian — used the term I initially thought it must have something to do with Google. I didn't know the word, but I definitely knew the style. And I suspect you might too.
The city of Burbank, California was incorporated in 1911 with a population of just 500. Today the population is just over 100,000 and the city is best known as the home of big name movie studios (and the closest Ikea to my apartment). Leading up to the incorporation of Burbank there was a lot of discussion about…