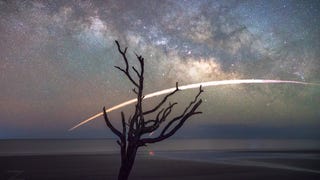 Time for your daily dose of space porn! Photographer Zach Grether posted photos on his blog of what he said was the landing of the SpaceX Falcon 9 rocket.
The Royal Observatory Greenwich, in conjunction with BBC Sky at Night Magazine, has announced its shortlist for the Insight Astronomy Photographer of the Year competition. You can check them out right here in all their cosmic glory.

The latest object to shoot high-def video from the edge of space is…an arm chair. To promote its REGZA SV LCD TVs (LED backlight, local dimming), Toshiba trekked into the Black Rock Desert with a helium balloon. Watch the result:
Yesterday the Japanese announced the first space beer. Now the British are claiming the first teddy bear astronauts, who were photographed in space from a home-made vessel with two digital cameras, a flight computer, GPS, and radio.
Greg Parker is a professor of electronics at Southampton University. He's also a wizard. Like his co-author Noel Carboni. Real wizards, capable of obtaining some images that rival the best of Hubble's and giant Earth-based telescopes using less than $15,000 in equipment and more patience than any money in the world…