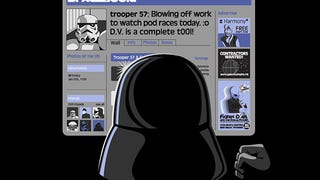 Unfortunately, it looks like this t-shirt design by Hogboy was not selected for printing at TeeFury, which seems like a mistake. Then again, it may just work better as a cartoon than a t-shirt. [TeeFury via The Daily What]
It runs! It really runs! The GScreen Spacebook that is. We showed you exclusive shots a few weeks ago of the dual 15.4 inch display notebook, but now we've got video.
This is one of the first photos of an actual gScreen's dual 15.4-inch screen Spacebook—two full screens (not just an extra 10-inch one like Lenovo's W700). Really. There were renders before, but here are the photos.