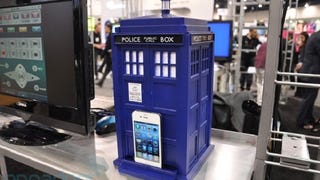 This TARDIS iPod speaker from Speakal looks like it would make listening to your music collection a dimensionally transcendental experience. How soon can we get one of these? [Comics Cavern]
The floating half orbs, the exquisite teardrop, the glowing blue light, and well, everything about these Speakal speakers makes this a number one seller among aliens. Luckily, us humans can buy one too.
You've seen iPod docks before, but how many of them have been shaped in a manner reminiscent to 80s arcade game villains? Ten? You're a damned liar. Zero. That's how many. You miscounted? Sure.
What's black and white and acts like a bamboo(m) box? The iPanda, an adorable iPod docking station by animal-themed audio system makers Speakal! The China bear-shaped dock boasts four speakers and a 4" subwoofer for 25 watts of sound and "360° sound distribution." Pump up the volume by touching the panda's left ear,…