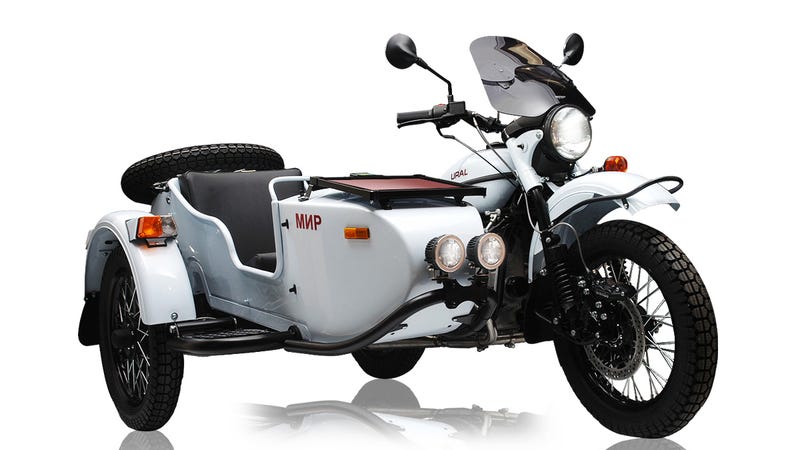 Ever wanted to sail through space on an mechanically unsound rust bucket while drinking Vodka from a sippy cup? Now you can! This MIR replica Ural sidecar pays homage to the pioneering Soviet space station.
Samsung's leap into the 10-inch netbook arena, represented in physical form by the glossy NC10, is receiving a "special edition" hype injection. There is some substance here, however, mostly in the area of battery life.
Do you feel lucky, punk? Do ya? Does Blu-Ray have five years left before digital distribution knocks it out of commission, or just four? So I ask again: Do you feel lucky? Annnnd, scene. Anyway, all kidding aside, this immense collection of all things Dirty Harry arrives on store shelves (brick and mortar, digital or…
Those "His and Hers" special edition Nintendo DS Lite bundles we told you about a while back got official today. Available in pretty pink (with a paw print) or gold (with the Triforce logo!), they come with Nintendogs: Best Friends or Legend of Zelda: Phantom Hourglass, respectively, and will cost $150 apiece when…
Click to view

There was a little surprise for everyone today at the Halo 3 preview in NYC: A special edition Halo 3 Zune. It's due out in mid-June. Wish I could have shown you some pictures of the box, which is emblazoned with Master Chief, but it was all hidden behind thick glass.

Thanks Carlos
Hold the phone! Yes, pun (unfortunately) intended. Ditch the iPhone, ditch the Prada and ditch all of that other crap from the 3GSM show. The LG Fusic is back, and is blinging babay. The same mediocre-at-best LX550/Fusic that was launched back in May is getting a very shiny Swarovski makeover. Let the SE Fusic hype…
I had a chance to talk to Dwyane Wade, of Miami Heat fame, about his limited edition Sidekick 3 coming out and other info. Jump to learn about why D-Wade designed his Sidekick the way he did, and other goods, including a final decision on the Mac versus PC debate (it is a shocker).
The November issue of XXL magazine is featuring this green Sidekick 3. There is no word on pricing or availability for this green SK3 or possibly the black version, but given that it appears in the November issue of XXL, we can assume a release within the next month or two.
According to Wikipedia, Maira Sharapova is a tennis player; according to me, she's hot. That aside, fans of the Russian tennis star can look forwar to getting their hands on a special white Sharapova-branded Motorola PEBL. Her signature (laser-etched, natch) is all over 50 of the special PEBLs. There's no way to…
In an act of shameless pandering to female consumers, Siemens re-introduced its already-girly CL75 ladyphone in a special limited edition, now with a poppy design. It was first shown at London Fashion Week and Siemens has even added to this with a poppy charm inset with pink Swarovski crystals designed by Brit…
The insanely expensive Vertu phone is coming out in an even more insanely expensive Limited Edition Ascent White model in time for, yes, that's right, the holidays. For just $5200, you too can have this fabulously luxurious cellphone that not only looks good, but comes with a 24/7 concierge service that will get you…