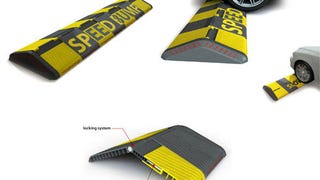 My car has a terrible suspension so I hate speed bumps. Even people with decent cars probably feel the same way. Wouldn't it be awesome if the speed bump flattened when you were driving slow?
While the city of Philadelphia is content with using 3D images to deter speeders, the authorities in ShanXi province, China are taking a far more drastic approach. They built a 100 foot long, 2 foot high, winding speed block smack dab in the middle of the Jing Zhuang highway. Sure, it scratches up cars, looks hideous…
Comcast's just sent out a release confirming that they are indeed increasing their upload caps on their cable subscribers. Now all applicable users nationwide will have either a 6/1Mbps or 8/2Mbps, depending on which plan they're currently subscribed to. Woohoo, better BitTorrent ratios are a'comin.