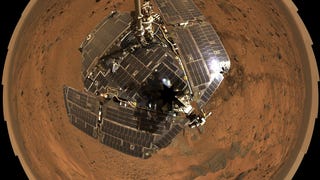 Friday, Jan. 3, marked the 10th anniversary since the safe landing of NASA's renowned Spirit rover on the plains of Mars on Jan. 3, 2004.
Addy and I are both weeping dusty red-colored tears in honor of the Spirit Rover's new permanent surroundings after reading this xkcd chronicle of his poor little life. [xkcd]
NASA's Spirit Rover just isn't having much luck, between sand storms and broken wheels, with a second wheel presumed broken and the threat of an icy-cold winter freezing the Spirit "to death" if it doesn't move on soon.
Nerds cheered and wept with happiness as NASA's Mars Exploration Rover Spirit responded to ground control commands today via the Mars Odyssey orbiter. Earlier this week, NASA feared that the rover would fall victim to the same problem that killed our beloved Phoenix Mars Lander. The dust storm is still a problem, but…
Hey Pig Pen. Yeah, you, the Mars Spirit Rover with the red Martian dust all over your solar panels. We're filing a post on a bathtub later today, so why don't you take the hint and use one? What's that? You're millions of miles away and potable water may or may not be somewhere on the planet you're currently…