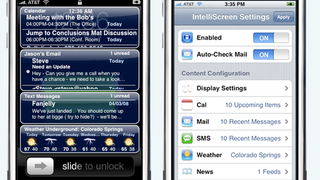 Instead of just staring the time, date and your choice of wallpaper when you start up the iPhone, why not make it more Windows Mobile-y by putting useful information there*? The app IntelliScreen lets you show either your upcoming calendar items, recent emails, recent text messages, the weather, or even an RSS feed up…
Philips drops another handset in their Xenium 9@9 cellphone line for those people who never remember to charge their phones. Instead of a candybar form factor, however, this Xenium 9x9 is a clamshell with a brushed metal finish and a 262K OLED display, but still has the ability to last up to 30 days on standby.
In the same vein as the California Vampire Slayer Act, the British government is set to force manufacturers to dump the "Standby" status on their TV, video, and DVD products. That means your PS2 is either On or Off, not half-on, sucking power and waiting for you to play a little Gran Turismo.