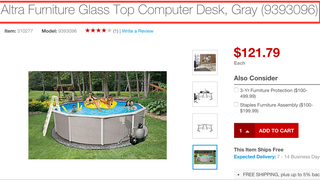 Standing desks are not cheap. Or at least, the extremely handy motorized ones aren't. That's why everyone—including this desk-agnostic blogger—freaked out when IKEA announced that it would sell a sit/stand desk powered by electricity for less than $500. Finally, a healthy desk option for the masses. Finally!
Sitting is comfy, but hours (and hours and hours) on your rear-end isn't great for your bod (even though it probably won't kill you). Standing is good, but tiresome after a while. Hybrid desks can be pricey but Ikea is betting on Bekant, a workspace that raises and lowers on two telescopic legs with a button push.
The dilemma: Sitting for hours on end is horrible for you, and standing desks are expensive as heck. The answer: The UpStanding Desk, a Kickstarter for an inexpensive shelf-like module that turns any surface into an instant standing desk. Magic!