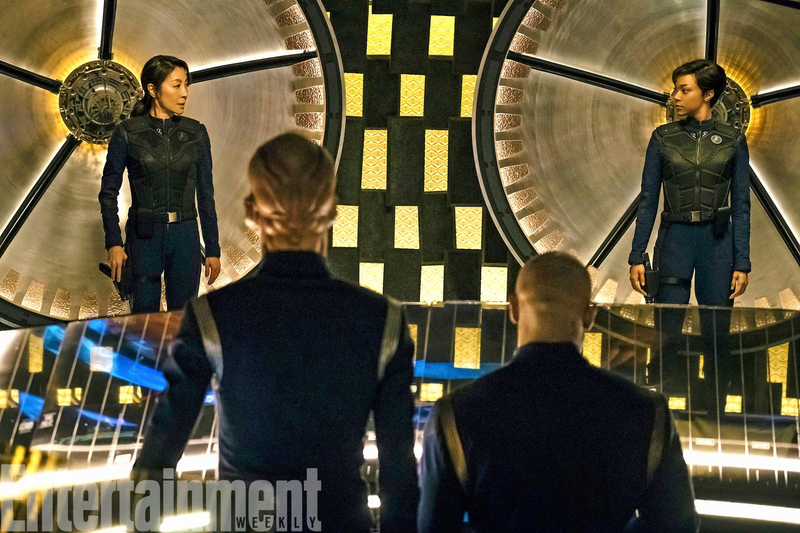 Another day, another new look at Star Trek: Discovery giving us some weird insight into all the things Starfleet did before the events of the past TV shows. Yesterday, we got to see that they'd begin a legacy of uncomfortable uniforms. Today, we've learned that they're gonna forget about protecting away teams real…
For those times when you're flung unexpectedly back in time—or if you just don't want to change clothes between work and your favorite holonovel—cosplayer Genovefa has dreamed up these Starfleet-themed dresses with long skirts and a bit of Victorian-inspired corsetry.
Not everyone can be Captain Kirk. While the corset-wearing flagship captain is off punching aliens and violating the Prime Directive, other captains are simply putting their noses to the grindstone and following the rules. Too bad that doesn't win them the adoration of the alien ladies — or Starfleet command.
The net is all abuzz with the rumor that Tyler Perry will be appearing as the head of Starfleet who threatens to boot Kirk out for messing with the Kobayashi Maru test in J.J. Abrams' Star Trek reboot, proving that these Star Trek news items are way past warp nine. You could release the catering menu from this movie…
Captain Kirk's costume in the new Star Trek film looks as exciting as a bellhop outfit, judging from the fuzzy images that have been turning up online. (Like the above photo, from JFX Online.) But let's face it, James T. Kirk was hardly ever on the cutting edge of style. Forty years of fashion crimes in space, after…
Must-see TV shows are futuristic classics that shouldn't be missed. Of course, not every must-see is perfect. That's why we've rated them 1-5 on the patented "crunchy goodness" scale.

Title: Enterprise (later Star Trek: Enterprise)
Date: 2001-2005

Vitals: The early seat-of-your-jumpsuit days of Starfleet, complete…
Must-see TV shows are futuristic classics that shouldn't be missed. Of course, not every must-see is perfect. That's why we've rated them 1-5 on the patented "crunchy goodness" scale.

Title: Star Trek: Deep Space Nine
Date: 1992-1999

Vitals: This time, the Federation boldly stays put, while the crazy forehead people…
Must-see TV shows are futuristic classics that shouldn't be missed. Of course, not every must-see is perfect. That's why we've rated them 1-5 on the patented "crunchy goodness" scale.

Title: Star Trek: The Next Generation.
Date: 1987-1992

Vitals: The Enterprise is voyaging again, but humans have outgrown all our…
Must-see movies are futuristic classics that shouldn't be missed. Of course, not every must-see is perfect. That's why we've rated them 1-5 on the patented "crunchy goodness" scale.

Title: Star Trek
Date: 1966-1969

Vitals: A paramilitary science squad in color-coded pajamas grapples (and sometimes makes whoopie)…