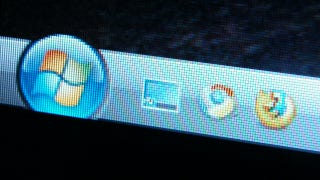 When it came to light that Microsoft was planning to remove the Start button from Windows for good, many ardent fans of its functionality were unhappy. Now, Microsoft has explained why it made the choice to ditch the button, which has graced PC desktops for over 17 years.
Computer security researchers Mathew Solnik and Don Bailey from iSec Partners have discovered a way to unlock your car doors and start your car remotely using SMS sent from a laptop.
It's short and sweet, but Android's new boot up screen for Honeycomb is pretty slick. It's a pulsating honeycomb that glows like Tron and mixed with a little psychedelic-ness. If only the rest of the UI was as gorgeous. [TechCrunch]
The Gadget: Duracell's Powerpack 450 is a portable power source for AC, DC and USB-powered electronics. It also features a vehicle jump starter, air compressor, flashlight and a voice feature.