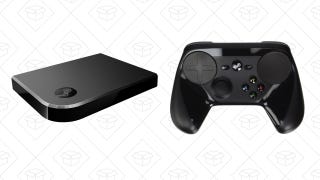 If you missed out on the Steam Link and Steam Controller discounts during the summer sale, Amazon's marked them both back down to $35, matching an all-time low.
The Steam controller, for all its flaws, is insanely customizable. One user put that versatility to extremely good use.
Sony, Microsoft, and Nintendo will do their damnest to sell you on PlayStation, Xbox, and Wii. But maybe, you'll have already spent your money on an alternative game console: a Steam Machine. Today, you can pre-order the fabled Steam Controller, the Steam Link streamer, and one of two different Linux-based gaming PCs.
When I heard Valve wanted to take over the living room, I didn't believe it. When the rumors came true, I didn't think it could be done. When Valve failed to deliver Steam Machines last fall, I felt vindicated. Now, a year later, it's happening. I've tried them. I'm about to eat my words.
There's nothing quite like the Alienware Alpha. For just $500, it's a competent Windows gaming PC. But it should have been the flagship Steam Machine. The Alpha was designed to be a Linux game console with a gamepad good enough to replace a mouse and keyboard. As easy to use as PlayStation or Xbox, but with more…
One year ago, at CES 2014, Valve introduced a new kind of gaming PC, a Linux game console with a gamepad designed to be good enough to replace a mouse and keyboard. 14 PC manufacturers were on board, each creating a Steam Machine in its own image. And then... crickets. What the heck happened?