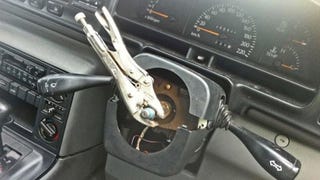 Imagine you're the police. Imagine you're in your police car. Imagine eating a donut. Imagine complaining about life to your partner. Imagine seeing a car with two obviously blown tires drive by. Imagine pulling that car over. Imagine seeing that the driver driving the car was using a makeshift steering wheel made…
Cars have already come such a long way since the Model-T days, but if you think Google's driverless cars were fancy, wait until you hear about Toyota's heart attack-detecting sensors, that will steer a car if you lose control.
Mario Kart is one of the most popular games on the DS, but imagine using a virtual steering wheel to control your car. A patent has turned up showing just that, taking the DSi's touchscreen control to the next level.
At first glance I thought that this homemade wheel mount was absolutely ridiculous—and with good reason. However, the fact that I recently played Mario Kart with my novice girlfriend leads me to believe that there could be a place for a mount like this. Using only a couple of 36-inch bungie cords and a plastic crate,…
It's not every day that an actual automaker creates a steering wheel for console gaming, so this Porsche 911 setup is especially awesome. It's a "fully licensed, to-spec reproduction," which means the wheel, the 6+1 gear sticks, and the wireless pedals are all as authentic as you're going to get in your living room.…
If you thought the plastic-looking Nintendo Wii Mario Kart wheel was a little too classy, Billet Mechanical has the wheel for you. First, it's not even a wheel. It's a Knight Rider-like half steering wheel that has grips on the two ends for gripping. It's not like you're doing hand over hand on regular wheels anyway,…
Wow, How cheap do you really have to be to go and make a duct tape Wii steering wheel? I mean yes the Ubisoft one is overpriced by itself ($19.99), but if it's between using this thing or shelling out twenty bucks for a piece of plastic, I'll pay the $20. Personally though, I'll just keep using the Wii controller all…