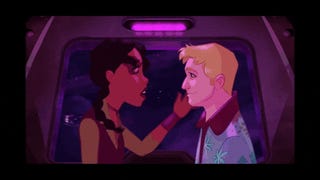 It's funny how two seconds of animation about a 9-year-old plot point can be so emotional, but I guess that's just Firefly's MO at this point. Excellent work, Stephen Byrne!
What if the Twelfth Doctor and Clara got their own animated adventure series? Artist Stephen Byrne created this cartoon intro, complete with animated versions of a Dalek, a Weeping Angel, and good old Handles the Cyberman head.
...because it's so great and it'll never, ever happen. I don't know whether to praise artist Stephen Byrne for giving us this magnificent look at what might have been, or to curse his name to the heavens for taunting us with a joy we'll never know. But I may just go have a beer.