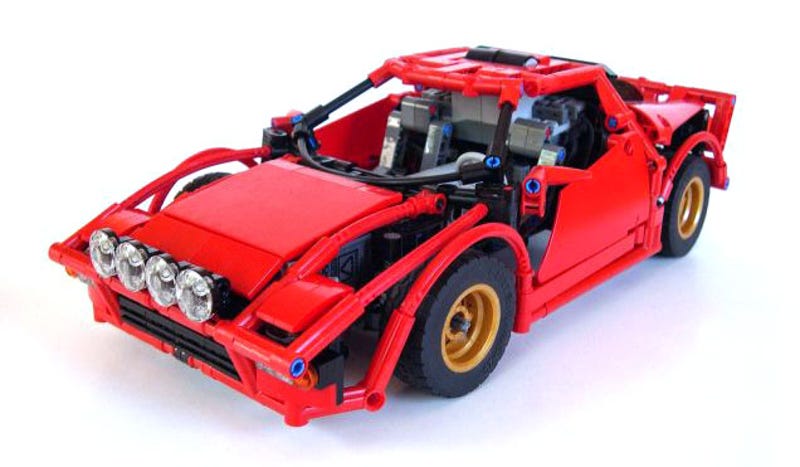 Robert Sorokanich shared this excellent Lancia Stratos built by Technic expert Piterx. Not unlike the actual car, this Stratos is a completely overpowered, slide happy machine. The twin motor, twin power supply Technic stuff channels my best Jeremy Clarkson "SPEEEEED!" and "POWAAAA!"
Felix Baumgartner set the record for the world's highest free fall when he successfully jumped 24 miles from the edge of space over the weekend. But you know what he hasn't done? Set the record for the shortest jump.
Surely by now you've heard someone say "Man, with balls that big, I'm surprised Felix Baumgartner even fit into that capsule." You can't deny it, he'd need some serious balls jumping from the stratosphere is just as insane and frightening as it is awesome.
We are covering the supersonic space jump live here. In case you missed it, the launch went smoothly. Here's the video. At the end you can see Felix's mom crying, overwhelmed by emotion as her son went on his adventure.
Skydiver Felix Baumgartner wasn't able to attempt his record-setting jump last week on account of the weather. He tries again today, and you can follow his mission live on YouTube. His capsule was expected to launch at 11 AM ET (Update: Doors have opened and he's preparing to jump!), so keep your eyes and ears on…
The Red Bull Stratos mission control has announced that, after Tuesday's aborted supersonic space jump, the next launch is scheduled for Sunday, October 14 at 8:30am EDT. We will cover the Roswell event live.
The mighty Lancia Stratos is a maniacal rally car, a performance icon, and now, a font you can download right here on Jalopnik.
The Stratos is one of those commercial planes that actually makes me think "this is how the future will look like". Rather than just being the same old basic design that has been with us forever now, the Stratos has a large 237-foot wingspan and two massive engines mounted on the back, giving it a way more stylized…
To the un-rock'n'roll like me, the object above looks like a TV cabinet, or a disco oven - but, like I said, I've never had much of a fever for cowbell. This is the Stratos from Hovland, an amp that was 20 years in the making. And this is the price: $50,000. More on what it has and what it does (and doesn't) after the…