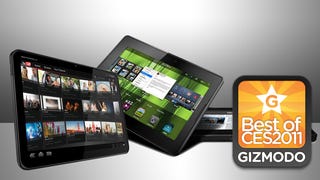 Tablets! Tablets tablets tablets. They're the hot ticket at this year's CES. Just about everyone's got one (not that everyone should). We've parsed, prodded, and played with the main contenders. And this one's best. Well, these ones.
The 7-inch version of Dell's Streak tablet has been rumored and teased for months, but today it's officially official! And what it lacks in size it makes up for in sweet, speedy 4G goodness.
Dell's latest Android tablet designs, now named "Streak," are much different—much more iPad like—than the Mini 5 we saw a few months back at CES.