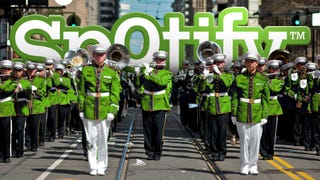 Spotify will be holding a press conference tomorrow to announce some special goodness. But what? Some are speculating that Spotify plans to make its huge music library available to you via apps other than its own. And Spotify everywhere sure sounds nice.
Music distributor STHoldings just pulled its collection of more than 200 record labels off of subscription music services. Like, all of them. Quoting one label, "Let's keep the music special, fuck Spotify." What do those fighting words mean for us?
Spotify is a unicorn no more. It promises to be the end all, be all solution to our music listening needs in the 21st century. And, by the beard of Zeus, they've delivered on that promise.
Sonos, best known for their premium-priced (but adored) wireless audio systems, announced an all-in-one receiver and speaker recently, and after seeing and hearing it, I'm impressed—but not blown away.
We haven't heard much from Olive since they released the pretty-but-pricey Opus and Melody music wedges last year, but that kind of cautious pace is to be expected in the high-end A/V world. Today, they've given their line a refresh.
As you will see in the video, the process looks pretty smooth—even with beta software. Hopefully this will mean less annoying adapters and cords for us to deal with in the future. [Kicking Tires]
Cisco Linksys' Wireless Home Audio system is a direct competitor to Sonos in the land of room-to-room streaming music. But WHA is more ambitious, with promises of iPod compatibility, touchscreen remotes and 802.11n support.