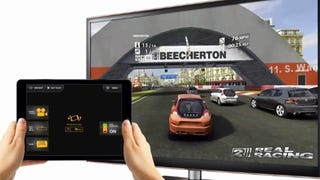 The rumors were true: Two of the most hated companies in America have teamed up to stream games to your cable box. If you pay for Comcast's fancy X1 service, you could soon be playing titles like Plants vs. Zombies, Real Racing 2 and NBA Jam on your TV without so much as a disc or a download.
Sony, Microsoft, and Nintendo will do their damnest to sell you on PlayStation, Xbox, and Wii. But maybe, you'll have already spent your money on an alternative game console: a Steam Machine. Today, you can pre-order the fabled Steam Controller, the Steam Link streamer, and one of two different Linux-based gaming PCs.
Ever heard of GameFly? It's what Netflix used to be, but for video games: mail-order disc rentals for Xbox, Playstation and Nintendo titles. It's neat, but slow. Today, the company launched something a little faster: GameFly Streaming, a cloud gaming service for the Amazon Fire TV.

Gosh, wouldn't it be nice to play a little Bloodborne tonight? Shame my wife will be using the TV. If only I had a way to stream games from my PlayStation 4 to another device. How about a hacked version of the PS4 Remote Play app that works on Android phones and tablets—and my Nvidia Shield? Yes. Yes. That will do…
The Wall Street Journal is reporting that Sony's next PlayStation, which is expected to be announced on February 20th, will include a new technology that'll allow it to stream video games. Yep, streaming to play.
OnLive's video game streaming service just got more appetizing, with a $10 flat-rate PlayPack plan to get all the games you can eat for one price. The only caveat is that you don't get ALL games OnLive has.
OnLive, the streaming game service, has matured really fast in just five months. I liked the original public release, when it was on just computers, but now it's come to a console that plugs into your TV. I like it.
The streaming game service is no longer charging $15 in monthly fees, so if you've been put off by yet another monthly direct debit, now's the time to sign up for a free trial. Jason loved it when he tried it out at home, but was put off by the various fees associated with it—though they were touting a promotion for a…
You've heard the pitch: the Spawn-720 is like a Slingbox for console games, letting you play your Xbox 360, Playstation 3 or (almost) any other console, through a streaming client on your PC. But does it work? Yes, so far.
OnLive, the system/service that renders current-gen video games in the cloud, is by no means perfect. That said, I'm shocked at how well it actually works.
I'll grant that OnLive—the streaming game service that its makers claim will bring high-end games to virtually any PC or TV—borders on implausible, but you gotta beliiieevve! For the haters, here's a demo video.
Through a cheap set-top box or a simple PC software client, OnLive streaming games can deliver the latest system-melting titles to crappy hardware you already have. The service's secret? Cloud rendering.