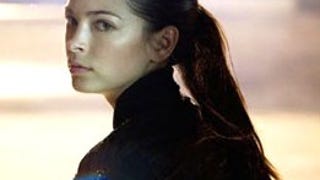 Newly released clips from the Street Fighter DVD show how you make a so-bad-it's-good-movie. Transformers 2 could stand to learn a thing or two from these sequences showing Kristen Kreuk zipping around in her wire harness and delivering justice-filled one-liners.
Chow Yun-Fat shows how much he enjoyed smacking Justin Chatwin in Dragonball. Plus there are new videos of Battlestar, Chuck, Heroes, Reaper and Kyle XY. Smallville season-nine casting! Plus Lost, Chun-Li, Dollhouse, T:SCC and Pushing.
Sheesh, the new Street Fighter: The Legend Of Chun-Li doesn't want to use the movie's greatest asset, Kristen Kreuk. The new heads-in-bodies poster leaves much to be desired. Come on, where's the leg?
Workin' the pole to her advantage, Chun Li yup yups some deadly power kicks straight into the faces of her assailants, in the new live-action Street Fighter movie. Kotaku got their hands on a few new action stills from Street Fighter: The Legend of Chun-Li, showing our main lady kicking some ass with her infamous…
The live action Street Fighter: The Legend Of Chun Li movie team has managed to accomplish the impossible. The new posters for the big action video game movie not only make the main character sexy-kicking-legs-for-days Chun Li look like a pasty albino but also manage to present the gorgeous Kristin Kreuk photoshopped…