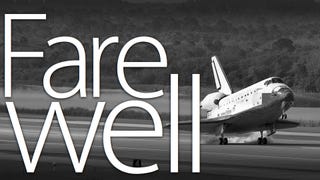 I'm sure the astronauts laughed with this one—while trying to hold their emotions in their last mission day. [Gizmodo]
On the day of Discovery's final return to Earth, its crew and the crew of the International Space Station had an amazing wake up call from Captain James T. Kirk himself.
With all of NASA's troubles getting Discovery's STS-133 mission off the ground, maybe it's time they looked for an expert opinion. Especially when Lieutenant Commander Geordi La Forge has officially offered his services. But did NASA accept?
NASA has been waking up astronauts with music since the beginning of the manned space program. Now, they not only want you to pick the music, but also submit your own for STS-134, the last space shuttle mission.
NASA has put a final date on the shuttle program: May 31 2010. That day, the shuttle will launch for the last time, putting an end to 29 years of amazing missions, two of them with tragic endings. The final will be STS-133, in which Endeavour "will carry critical spare components that will be placed on the outside of…