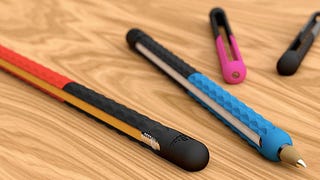 Your finger works just fine as your body's built-in stylus, but sometimes—like when checking Twitter while eating wings—you'd rather not touch your screen with your filthy digits. It's those times when carrying a stylus is perfectly justified, and with the clever rubber StretchWrite, you can just use your favorite pen…
Last year, Adobe took its first foray into the hardware world with two cutely named digital drawing devices, projects Mighty and Napoleon. The software giant is now ready to launch the fully-formed duo under new monikers. Meet Ink and Slide. They're (mostly) pretty great.
Have you used Paper by 53 Design? It's that iPad drawing app that is so decked out in pretty, design-y, feel-good-ness that it makes all who use it feel like Matisse. Well, now its creators have put out an equally gorgeous stylus.
Children are drawn to the iPad like flies to honey, but children are also notoriously bad at taking care of their toys. And if the thought of a young'n bashing away at your tablet's display with a pen leaves you anxious, Griffin's got you covered with a glowing stylus that lets them draw in mid-air.
Back in March, we saw a sneak preview of Ten One Design's slick pressure-sensing touchscreen stylus—code named the Blue Tiger. But the company has finally revealed that the Bluetooth-connected stylus is now officially known as the Pogo Connect and, it will have a couple of new tricks up its sleeve when it becomes…
As Griffin says, there are heaps of coloring-in apps for the iPad, but only one has had the official thumb's up from Crayola. Griffin's own Crayola ColorStudio HD, natch. After its CES debut the app-and-stylus combo has finally gone on sale, for $30. [Griffin via Cnet]
Honestly, I'm surprised HTC has the audacity to price a flippin' stylus at $80 in the first place. Even if it can sketch and do all sorts of magical tricks like make sandwiches. Unfortunately the free-stylus offer is only available at Best Buy, where it'll cost you $500 for the Flyer tablet and stylus. [Best Buy via …
That overpriced, oversized Kno tablet? A video look-behind-the-scenes has revealed some high-tech testing equipment—namely, a Lego robotic-arm used to test the touchscreens and ambient light sensors. Wicked sideburns on the Lego robot's human-overlord too, I might add. [YouTube]