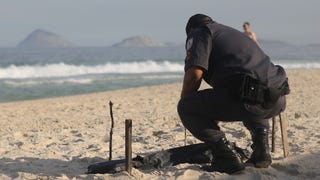 Athletes have already expressed concern about traveling to the heart of the Zika outbreak to compete in this summer's Olympics. Now journalists are opting out entirely. Several NBC employees will not travel to Brazil to cover the games, including Today anchor Savannah Guthrie, who announced today that she's pregnant.

Ten years ago this week, the Summer Olympics triumphantly returned to their historic home with splashy opening ceremonies in Athens, Greece. Unfortunately, the glory did not last after the Games. While the dilapidated state of Athens' venues post-Games has been well-documented, new photos taken this week show just how…
It's almost showtime for Sochi, which may or may not have its shit together by the time the opening ceremonies start. While it's too late for Sochi to change its trajectory, perhaps the 2016 host city could jot down a few tips from what are widely considered to be the most successful Olympics ever: L.A., 1984.
South African sprinter Oscar Pistorius just ran in the Olympics. Unlike his competitors he did it as a below-the-knee amputee, using Ossür's Flex-Foot Cheetah legs. But he also faced a unique challenge that his competitors didn't have to consider—how do you get track spikes on your prosthetics?
The thwack of an arrow hitting a target. The splash of a swimmer diving into the pool. The clap of a sprinter's feet hitting the track. Those are some of the noises you'll hear broadcast through your TV when the London Olympics kick off next Friday. But you're not just hearing those signature sounds of sport…
Click to view When the Summer Olympics kick off in Beijing next month, they will be very different from the Olympics held eight or even four years ago. From weather control to laser timing devices, technology is having an impact on the Olympics in a profound way.
Officials from the International Swimming Federation (aka FINA) want to speak with Speedo next week about their high-tech swimsuit. Seems the athletes who use the swimsuit are breaking all sorts of records and, with the Olympics coming up, FINA doesn't want anyone getting an unfair advantage. Unfortunately for FINA,…
In his CES keynote tonight, Bill Gates (and Bob Costas) announced that NBC would broadcast 3,600 hours of games from the 2008 Beijing Summer Olympics via MSN on the nbcolympics.com site. The video will be both live and on demand, with over 30 simultaneous live broadcasts. The cool thing is that finally, people who…