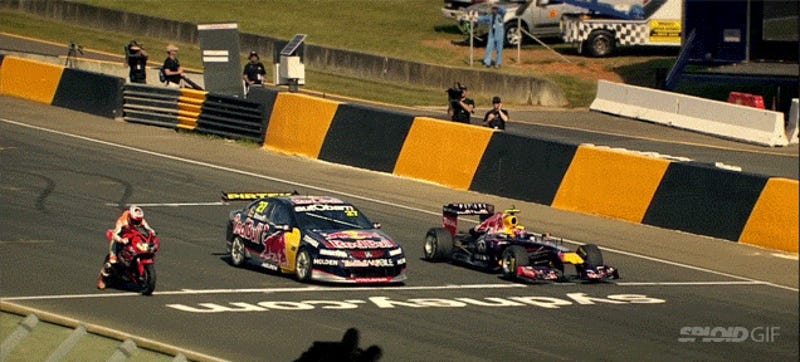 For a second, you think hey maybe the motorcycle has a chance in this Top Gear bit since it screams to a lead but then the land-based jet machine insanity known as an F1 race car steps it up and the other two are fighting not to get lapped by the closest thing we have to a teleportation device on Earth.
The SSC Ultimate Aero II, the second generation of America's fastest supercar, looks like a space pod that combines Ferrari angles with Wall-E's Eve curves. It could also be the fastest production car in the world if it reaches 270MPH. [Jalopnik]
They did it. A whooping 139.843mph. That's 225.06km/h in the right speed units. The UK team lead by Charles Burnett III broke the world record for steam cars, as you can see in the video.
This is the fastest kettle in the world, like his owner— Charles Burnett III—calls it. The 25-foot steam—powered supercar is being readied to break the speed record in that category right now, at the Daytona Beach Road Course.
According to Ronn Motors, the Scorpion supercar will not only achieve 0-60 mph in just 3.5 seconds, but also earns green credentials by getting 40 miles per gallon. This trick is achieved by having a hydrogen-hybrid engine under the hood (also known as hydrogen injection, Water4Gas or HHO.) Small doses of hydrogen are…
Life imitates Knight Rider. Australian police are testing a new super-car that can recognize 5000 license plates in a day, respond to voice commands and calculate whether other cars are speeding. Best of all, the ESCV can fire a small dart with a GPS locator into other vehicles, so the cops can locate them later…
We've seen wooden cars before, but they've never looked quite as awesome as this supercar one-off that a team of graduate students is building. Named Splinter, the supercar is being constructed as a serious attempt to explore the uses of wood as a bulding material for vehicles, so it's even loaded with a supercharged…