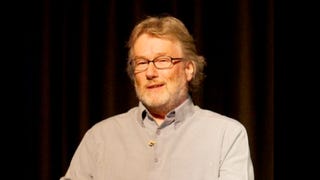 The io9 Book Club meets once per month to discuss a book, and then the author usually joins us for a chat. In May, we're meeting on the 3rd to discuss Surface Detail by Iain M. Banks. Watch for a post that day announcing the book club, and jump into comments for discussion! There's still time to read the book, too.
Surface Detail, Iain M. Banks's new contribution to the Culture Series, is just out from Orbit Books. It begins in the realm of the Real, where matter still matters. It begins with a murder. And it will not end until the Culture has gone to war with death itself. For the uninitiated, let's look at this Culture, shall…
Can't wait to get your hands on Iain M. Banks' new novel Surface Detail, coming out early next month? Well, you'll be in a frenzy after reading the first chapter of the book, available on the Orbit Books website.
At Eastercon over the weekend, Iain M. Banks announced he'd just finished his latest novel in the Culture series, to be called Surface Detail. It will come out in February 2011.