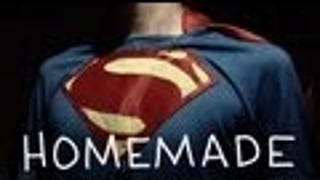 It's always fun to see what fans come up with when they Swede trailers for big special effects movies, but there's something especially delightful about this homemade remake of the Man of Steel trailer by DustFilmsOriginals. When it begins, it seems like a particularly earnest Sweding, but by the time we hit the bus…
The folks at Kids Swede Movies put a group of pint-sized actors to work reenacting the famous Chestburster scene from Alien. But a sock puppet, a hair clip, and some blood-simulating pizza reduce the tiny sweders to fits of laughter rather than terror.
Get locked out the Iron Man panel, or simply just unable to make it to the great nerd Con gathering? Well you're in luck — a band of loyal fans recreated all the Iron Man 2 footage previewed this weekend.
While it's not the entire movie, this sweded lightcycle scene from Tron, every computer geek's favorite movie this side of War Games, has to be the best sweded version of a film in the entire history of sweded films. It may not be as funny as the hilarious sweded BigDog quadruped robot or the sweded Star Wars after…