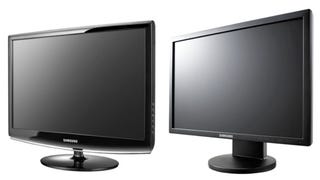 Among its raft of new products at IFA, Samsung has updated its Syncmaster range of monitors (last heard about with the double-screened edition) with two new 22-inchers that have "enhanced motion picture acceleration" tech for reduced ghosting. The new tech reduces the motion-picture response time from 27ms to 9ms,…
There's something satisfying about having multiple monitors on your machines to keep things organized that you can't really describe. Samsung knows this but also knows that sometimes a full second monitor is overkill, thus the SyncMaster 2263. We've seen it before, but Wired has the first review we've seen up, and…
Samsung has brought out another LCD monitor from its Syncmaster range. The 245T is a 24-inch monitor with PiP (Picture in Picture), PbP (that's Picture by Picture), and its Motion Picture Acceleration gives better-quality pics. Also featured is HMDI and S-Video connections. Another pic, plus the price after the jump.
New from Samsung is the CX940UX, a 19-inch monitor that you can connect to your PC via USB. From the Syncmaster range, it's got all sorts of tricks up its sleeve, such as being able to control up to six further monitors linked to your computer. You can forget about needing extra graphics cards or new drivers to manage…
Unlike other monitors that only have a webcam or a mic built in, this 22-inch SyncMaster 220TN Samsung monitor has a network module, webcam, microphone and speakers so that you can have a Skype or Microsoft Live Messenger conversation without a PC. Which means that as long as you have power and an Ethernet connection,…
As everyone knows, most of today's LCDs connect to your PC via VGA or some form of DVI connection, but Samsung is prepping a new kind of LCD that connects to your PC via USB. One of the benefits of having a USB-based LCD is that you won't need a hefty video card to power multiple displays. However, that's also the…
Three monitors announced today from Samsung—two 19-inchers and one 17-incher. The SyncMaster 971P is a 19-inch "premium" monitor that has a triple hinge stand and a black bezel. It has a crazy pretty decent 6ms response time, 1500:1 contrast ratio, 178/178 degree viewing angle and a native 1280x1024 resolution. The…
Samsung rolled out its SyncMaster 971P line of monitors, showing that you don't have to be a sucker to have premium design in your home or office. Besides having that unique-looking S-shaped stand, the 19-inch monitors will be available in black or white, and don't skimp on the specs, either, with a 178-degree…
Compared with older monitors that support only 82% of possible NTSC defined colors, this 19-inch Samsung SyncMaster 931C LCD displays nearly 100%. Useful for graphic designers, photographers, and anyone who wants an accurate representation of images on the screen, the 931C gives you 1280x1024 resolution and 2000:1…
Samsung ups the ante on color, claiming 97% color reproduction with its SyncMaster CX930B 19-inch LCD monitor. You thought all color monitors gave you 100% of the colors, didn't you? Actually, garden-variety displays are only cranking out about 87% of the gamut, so that 97% number is something special.